DTS CEO Addresses Legislative Advocacy for Business / Chamber Members @ Mayor's State of the Town Luncheon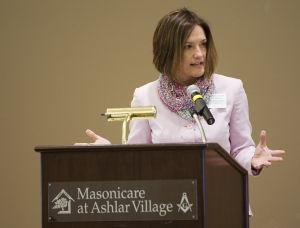 Mayor's Lunch address
WALLINGFORD – Holding a drawing of a medieval castle, Mayor William W. Dickinson Jr. said Tuesday that a strong financial foundation is the key to the town's success in 2013. The Chamber sponsored the Annual State of the Mayor's Luncheon.

Christine Mansfield, a Board of Education member and co-chairwoman of the Quinnipiac Chamber of Commerce's legislative committee, urged business leaders in attendance to speak out against unfunded mandates.

"You need to be involved," she said. "It's not getting any better. This is going to be a difficult year for budgeting. Let's get our voices heard."




"This annual tradition offers the business community a review of town departments, progress, and the Mayor's outlook for the future. The stable economic base of Wallingford and the efficiency of the electric grid foster amazing dividends back to our businesses. We are fortunate to be based here." Mansfield added that the Chamber remains a vibrant part of the economic growth and business development efforts with the Economic Development Commission. "The leadership of Robin and her team, and the entire Legislative Committee continue to represent Wallingford and North Haven to our legislators. Advocacy is so important to being visible and keeping a line of communication open to our legislators."